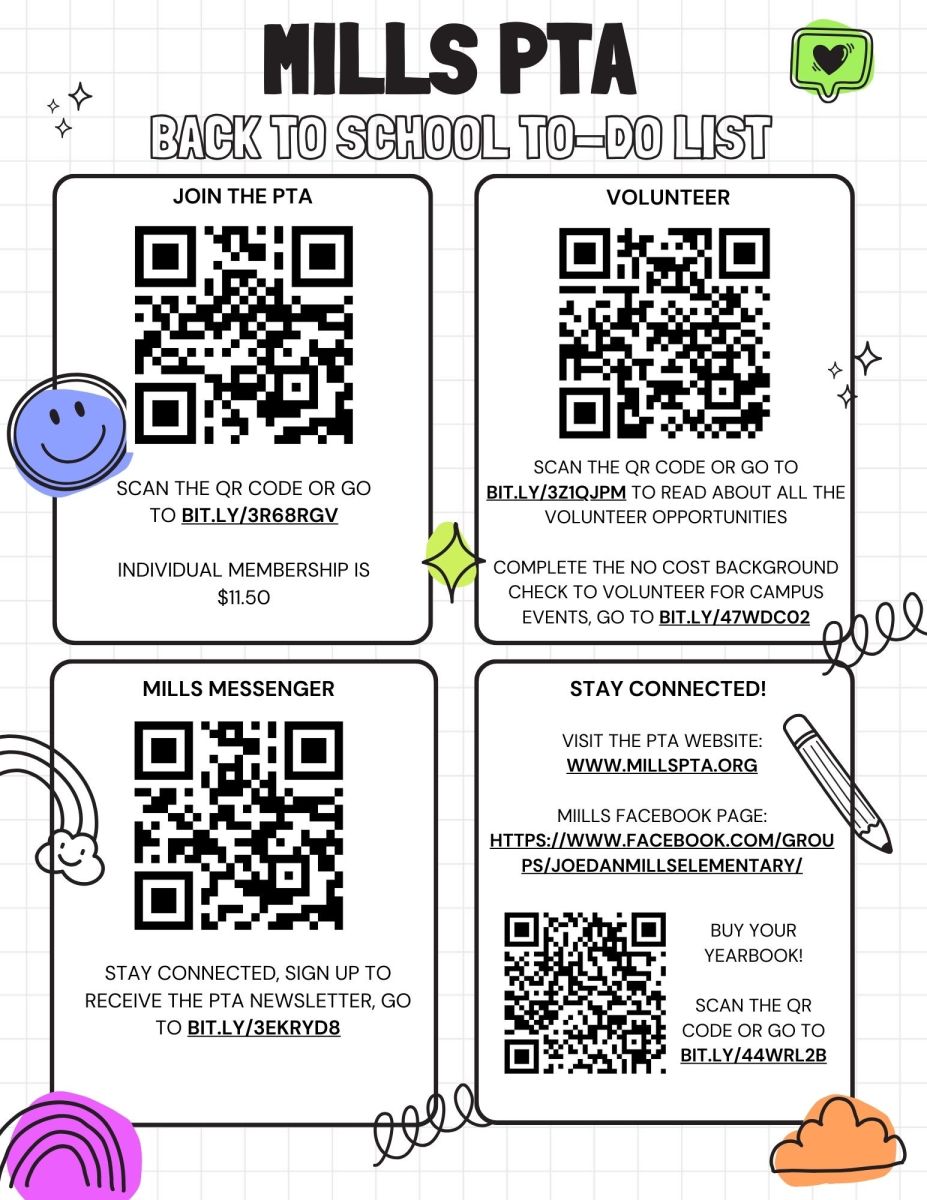 Who we are?
The Mills PTA is a very active group of parents that are dedicated to ensuring that our kids have the best elementary school experience. We would love for you to join the fun. Please visit the Mills PTA's website for more information on how you can help make our Mountain Lions' time at Mills extra special.
What do we do?
The PTA hosts many fun events throughout the school year including the Valentine's Dance, movie nights, and the Amazing Race. The PTA also actively fundraises to help pay for annual funds for copiers, technology staff & equipment, Literacy Library, Roaring Readers, and Dyslexia programs. We offer grants to teachers, help fund school improvements, such as outside and inside gym equipment, and generously fund our Yearbook Committee and our campus beautification effort. Our PTA fundraisers include the Fall Fundraiser and Spring Love Your School Fundraiser.
What can you do?
We are always looking for additional volunteers and welcome all participation. We have roles of varying sizes and to match different schedules. We can also help match a role or committee to your areas of interest.
What is my benefit to joining the PTA?
It allows you to get and stay connected, to know what is happening in your school. Not only that, PTA events and opportunities are chances to meet other parents and teachers. You can build rapport, discuss issues, share ideas, voice concerns and experience community.
You can discover great resources, as the PTA offers a wide variety of programs designed for parents and students. You can also give back to Mills. By volunteering and enacting positive changes, you will see the improvement you make to our school. Local PTAs plan an important role in fundraising, providing funds to improve our building, create social events, and give great access to curriculum-based programs. 
By volunteering, you can watch yourself grow in news ways, putting your skills and hobbies to use for a noble cause, your child and all the children in the community. It also gives you the chance to speak up and learn effective ways to suggest and enact change at your school. 
By becoming a PTA member, you will be demonstrating to your child the important you place on education. 
Who do I contact?
PTA Dream Team:
May Martin, may.millspta@gmail.com
Carrie Bullock, carrie.millspta@gmail.com
Jamie Klein, jamie.millspta@gmail.com
Important Links to Check Out
Check out Volunteer Opportunities 
Complete Your Volunteer Background Check
Mills Messenger Newsletter Sign Up
Ways to Support Mills
Help earn money for Mills by using the digital Box Tops for Education app. It is easy to use! You can get started by downloading the app on your phone and uploading your digital or paper grocery receipts each week. Watch this video to learn how to get started. Every bit counts towards helping our school. After signing up, you can always forward your receipts to receipts@boxtops4education.com. You will learn instantly if you have Box Tops earnings!
---